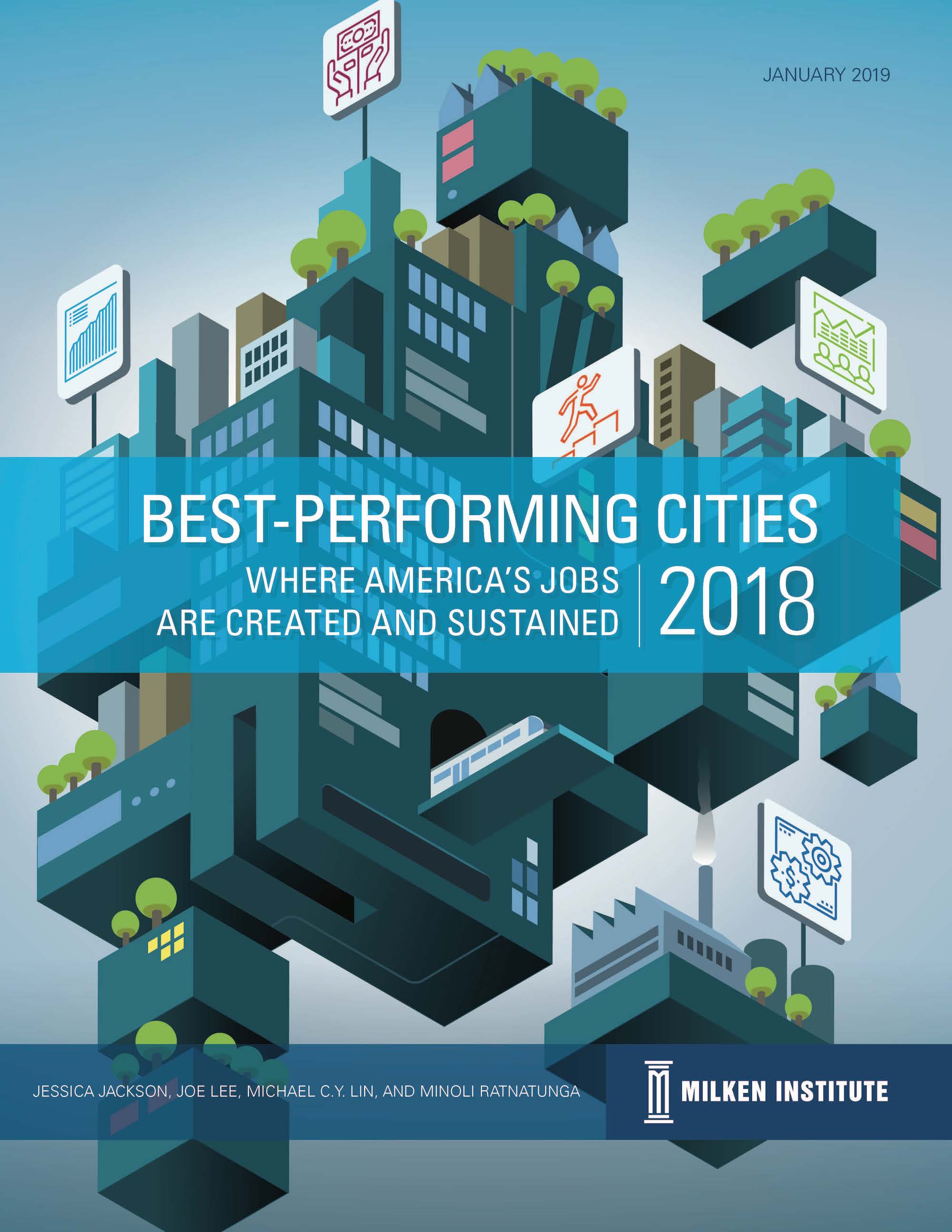 The Milken Institute's Best-Performing Cities U.S. index provides a way to measure which American metropolitan areas offer the greatest opportunities for prosperity and innovation across the nation. The BPC index measures each metro area's economic performance using outcomes-based metrics such as job creation, wage gains, and technological developments to evaluate their relative growth.
The Rankings:
Provo-Orem, UT, holds steady at the top of our index, thanks to a dynamic high-tech sector, an educated workforce, and a business-friendly tax and regulatory climate.
Growth through tech is the reigning theme across America, with Silicon Valley and several of Northern California's tech-focused metro areas in the top 20. Outside the Golden State, tech hubs such as Austin-Round Rock, TX, Dallas-Plano-Irving, TX, and Raleigh, NC, have also leveraged their educated workforces and competitive business climates to generate growth.
Top Ten Best-Performing Cities 2018 in the U.S.
Metropolitan Statistical Area (MSA) / 
Metropolitan Division (MD)

2018 Rank

2017 Rank

Change

Provo-Orem, UT MSA

1

1

Steady

San Jose-Sunnyvale-Santa Clara, CA MSA

2

11

+9

Austin-Round Rock, TX MSA

3

9

+6

San Francisco-Redwood City-South San Francisco, CA MD

4

4

Steady

Dallas-Plano-Irving, TX MD

5

3

-2

Raleigh, NC MSA

6

2

-4

Orlando-Kissimmee-Sanford, FL MSA

7

7

Steady

Seattle-Bellevue-Everett, WA MD

8

17

+9

Fort Collins, CO MSA

9

5

-4

Salt Lake City, UT MSA

10

10

Steady
For the third year in a row, Bend-Redmond, OR is the top-performing small metro area in the nation with unrivaled job growth that began in the five years ending in 2017.
Key findings:
High-tech industries continue to fuel growth in many of the best-performing cities, creating opportunities for highly-skilled workers.
Low unemployment rates and a shortage of skilled labor are spurring more competition for knowledge-workers, putting upward pressure on wages in the tech sector and widening the income gap.
Top metro areas are enjoying impressive job and wage growth, but many are also seeing housing prices rise sharply.
The national economy provides a strong base for regional growth with soaring stock markets, low inflation, and high employment supporting consumer confidence.