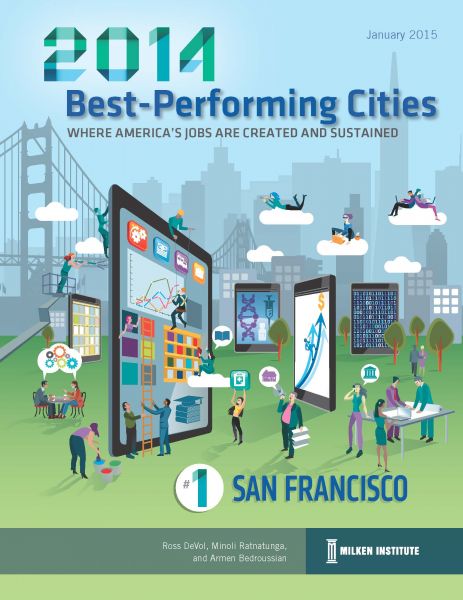 The Milken Institute's annual "Best-Performing Cities" index shows that technology and shale energy were the biggest factors behind America's booming cities. Tech titan San Francisco claimed the top spot, up two ranks from last year. Last year's No. 1, Austin, Texas, dropped a slot. The rest of the top five boast thriving tech sectors as well: Provo, Utah (third, down from second last year); San Jose, Calif. (unchanged at fourth) and Raleigh, N.C. (fifth, up from 13th place).

Highlights from "2014 Best-Performing Cities: Where America's Jobs Are Created and Sustained" include:
San Francisco achieved the top rank for the first time in the 15-year history of the index.
Texas is still a jobs machine, claiming five of the top 10 positions among large metros.
Technology centers captured 13 of the top 25, with metros containing both creative- and science-based industries performing best.