In this Issue:
 

Chairman's Note

As 2019 draws to a close for the Center for the Future of Aging, we're excited by our work to address the cost of dementia and the imperative of readying our cities for an older population. Challenges and solutions to these issues were highlighted at our recent Future of Health Summit by policymakers, subject matter experts, and business leaders. We will continue to move forward on both of these topics in the year ahead. 

In planning for 2020, we're mindful of the importance of the next decade. The United Nations, the World Health Organization, the National Academy of Medicine, and other national and global organizations are focused on this period, understanding the stakes. The next 10 years will see the largest population of older adults in human history navigate changing environments, workplaces, health systems, technologies, and institutions of learning. Intergenerational relations will be tested, and pension, caregiving, and retirement norms will be disrupted. Climate change and social disparities will demand new solutions. Scientific knowledge will advance, and new markets will develop to capitalize on the shifting demography. At the Center for the Future of Aging, we'll continue our work to improve lives and strengthen societies by promoting healthy, productive, and purposeful aging. 

My thanks to our supporters, partners, collaborators, and friends in the field. Thanks also to our mission-driven Center staff. Best wishes to you and your families for a happy, healthy, and meaningful new year. 

Paul Irving
Chairman, Milken Institute Center for the Future of Aging

 
 

Featured Reports 

In October, the Center for the Future of Aging (CFA) released two new reports: "Age-Forward Cities for 2030" by Associate Director Caroline Servat and Senior Director Nora Super and "Reducing the Cost and Risk of Dementia: Recommendations to Improve Brain Health and Reduce Disparities" by Nora Super, Associate Director Raj Ahuja, and Associate Kevin Proff. Our network and members of our Business Council and Academic and Policy Advisory Board have been invaluable in informing our work. Both reports lay out a series of recommendations to move these issues forward and provide a roadmap for implementation.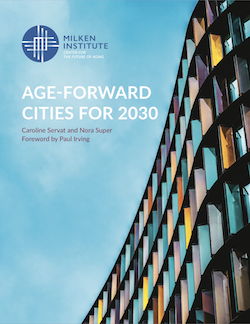 Cities are ground zero for the demographic shift that is changing America and the world, and city leaders are just beginning to understand the promise of an engaged older population. But too many local leaders still overlook the connection between aging policies and their cities' vitality and sustainability. They fail to consider their aging populations as they plan for economic development, housing, health, and infrastructure needs. "Age-Forward Cities for 2030" offers a prescription for our urban future. By integrating population aging into strategies for growth, inclusion, and resiliency, cities can implement solutions that will strengthen how we grow, build, and care for generations to come. Developed with the guidance of nearly 150 subject matter experts, this report focuses on three priority areas as a call to action for cities to commit to:
 
Age-Forward Economic Development: How We Grow

Age-Inclusive 21st Century City Design: How We Build

Resilient Networks for Healthy Aging: How We Care

The Age-Forward 2030 report proposes 18 actionable recommendations for city and community leadership, including:
 
Creating and expanding local workforce development programs that provide training updates and new skills for older workers 

Integrating older adults into the planning and development of innovation districts and incentivizing the development of startups and commercial enterprises focused on age-friendly products and services in underserved neighborhoods

Identifying and leveraging private investments and incentives to build mixed-use, affordable housing, and commercial developments to house and serve older communities

Bolstering the capacity of trusted, community-based organizations through economic and human resources so they can effectively partner with the health systems and plans seeking to engage in their communities

Pilot testing and evaluating innovative financing models to improve the coordination of housing stability and health services for high-risk older adults 

Creating cross-sector programs to bridge the digital literacy gap for lower-income older adults and investing in the development of open data tools to help older adults navigate tech-based challenges.
Stria News and Next Avenue published features on the report. Ann Oldenburg's article for Stria News discusses the longevity economy components of the report. Richard Eisenberg's Next Avenue feature highlighted the consumer-focused components of the report. Paul Irving and Caroline Servat authored an op-ed featured in the San Francisco Chronicle to raise awareness about the lack of affordable housing for older adults in California.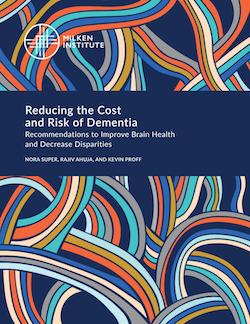 Over the next 20 years, the number of people living with Alzheimer's and related dementias in the United States will nearly double, as discussed in our newly released report. Women and certain minority populations, including African Americans and Latinos, are disproportionately impacted by the disease—both as patients and caregivers. These findings confirm that we must elevate our efforts to reduce the cost and risk of dementia.

Building on new evidence and a better understanding of the underlying causes of dementia, CFA analyzed data, conducted interviews, and hosted consensus-building sessions with thought leaders, experts, industry stakeholders, and advocates. In this report, we have developed actionable recommendations to improve brain health, reduce disparities, and ultimately change the trajectory of this disease. The report includes 25 actionable recommendations centered on five primary goals:
●    Goal #1: Promote Strategies to Maintain and Improve Brain Health for All Ages, Genders, and Across Diverse Populations
●    Goal #2: Increase Access to Cognitive Testing and Early Diagnosis
●    Goal #3: Increase Opportunities for Diverse Participation in Research and Prioritize Funding to Address Health Disparities 
●    Goal #4: Build a Dementia-Capable Workforce Across the Care Continuum
●    Goal #5: Establish Services and Policies that Promote Supportive Communities and Workplaces for People with Dementia and their Caregivers

Nora Super wrote an accompanying op-ed for The Hill to raise awareness about how dementia impacts women disproportionately. The report received substantial media coverage, including McKnight's Senior Living, Los Angeles Aging Advocacy Coalition, AARP, John A. Hartford Foundation, and WebMD.
Special thanks to our supporters and collaborators in our dementia work: AARP, Bank of America, Biogen, BrightFocus Foundation, Home Instead Senior Care, The John A. Hartford Foundation, and UsAgainstAlzheimer's.
We are moving forward with the second phase of this project, focusing on implementing the report recommendations. An implementation strategy plan for each of the five goals will be developed in collaboration with our supporters, experts, and other interested stakeholders. If you are interested in participating in this project, please email Raj Ahuja at rahuja@milkeninstitute.org.    
 

Recent Events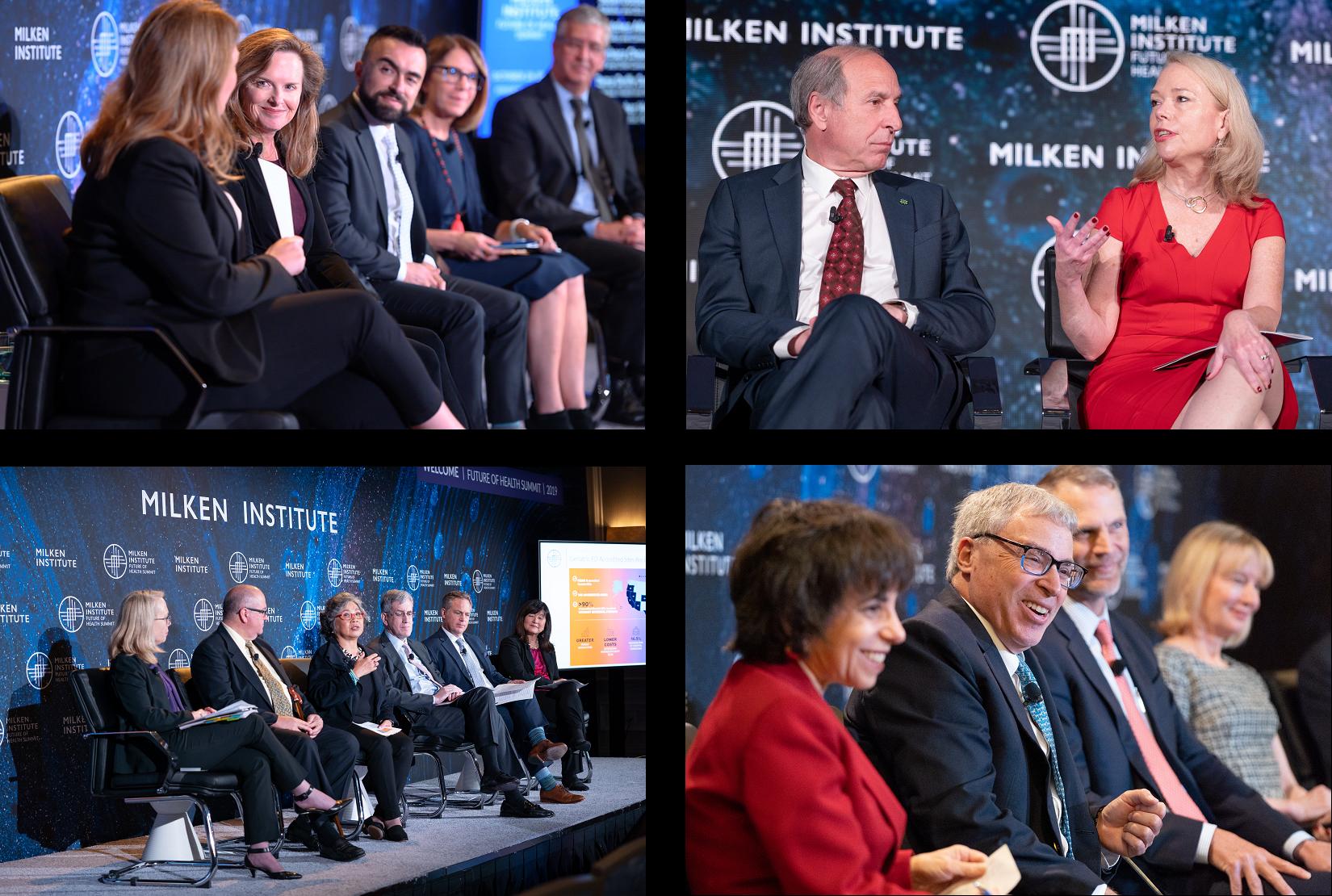 Milken Institute Future of Health Summit
At the Milken Institute Future of Health Summit, aging issues took center stage. CFA hosted four public panels and three private sessions for thought-provoking discussions about healthy longevity, affordable housing, Age-Forward cities, and brain health and dementia.
"Documentary Screening: A 'Turning Point' for Alzheimer's Disease?" In partnership with BrightFocus Foundation, we hosted a screening of Turning Point, an award-winning documentary by filmmaker James Keach. The film explores the quest for the first medication to treat Alzheimer's disease. A panel discussion featuring Marie Bernard, Stacy Pagos Haller, and Melinda Power followed the film.
"The Future of Brain Health" This plenary session opened the Future of Health Summit and was conducted in two parts. Moderated by Meg Tirrell, the first segment featured a one-on-one discussion with Congresswoman Maxine Waters, co-chair of the Bipartisan Task Force on Alzheimer's Disease, on the role of public funding and health policies in improving brain health and reducing the risk of dementia. The second part featured Marie Bernard, Ruth Benca, Rudy Tanzi, Nora Super, and Rod Hochman. These experts discussed the latest evidence on boosting brainpower and reducing the risk of cognitive decline. Watch the full session.
"Turning Back Time: The Science of Aging" Moderated by Joanne Kenen and featuring Nir Barzilai, Howard Fillit, Joan Mannick, and Chris Hite, this session explored the latest research on the biology of aging, the relationship between aging and age-related diseases, and the opportunities and challenges of investing in scientific innovations to increase life span and healthspan. Watch the full session.
"Age-Forward 2030: The Intersection of Housing and Health Care" Moderated by Susan Donley, the panel featured Bechara Choucair, Chris Herbert, Gretchen Alkema, and Tama Duffy Day. These experts discussed new ways to redesign the urban landscape to promote affordable housing and access to health and long-term care services to enable older adults to not only age in place but to thrive in communities of the future. Watch the full session.
"Reducing the Cost and Risk of Dementia" Moderated by Nora Super and featuring Mike Belleville, Jennie Chin Hansen, Kevin Crain, Jeff Huber, and Shari Ling, this panel discussed the goals of the Center's newly released report, which highlighted the impact on diverse communities, the value of early detection and diagnosis, and the need for improved training and support for paid and unpaid caregivers. Watch the full session.
Getting Older
Paul Irving's chapter, "Giving a Damn and Getting Involved," is included in the recently published book Getting Good at Getting Older by Richard Siegel and Rabbi Laura Geller (available through Amazon and all major booksellers).
National Academy of Medicine (NAM)
As a member of the NAM Commission on the Global Roadmap for Healthy Longevity, Paul Irving spoke and moderated a session at the NAM workshop, "Social, Behavioral, and Environmental Enablers for Healthy Longevity" held in Washington, DC, November 6-8.
Gerontological Society of America Annual Conference 
Nora Super presented data on our new report, "Reducing the Cost and Risk of Dementia: Recommendations to Improve Brain Health and Reduce Disparities," on November 15 in Austin, TX. She also moderated a session with Scott Kaiser of the Motion Picture Television Fund, Surya Kolluri of Bank of America, Nancy Lynn of BrightFocus Foundation, and Tony Ware about the Turning Point Documentary, recent discoveries in Alzheimer's research, how the financial industry provides support for people living with dementia, and how we might prevent dementia in the future.
Intergenerational Convening
Paul Irving and Bruce Chernoff, CEO of The SCAN Foundation, were interviewed by Carol Larson, CEO of the David and Lucille Packard Foundation, at "Better Together: Purposeful Aging, Thriving Children and Youth, and California's Intergenerational Opportunity," an event hosted by the Annenberg Foundation and co-convened by the Annenberg, Eisner, and Packard foundations held on November 18.
Gensler Design Forecast NY | Designing a Better World: Equitable and Actionable Solutions  
Nora Super discussed equitable and actionable solutions for designing a better world at a Gensler Design event in New York City on December 11. The discussion covered a wide array of topics, including longer work lives, designing for intergenerational interaction, and Age-Forward transit and housing.
Association of Health Care Journalists (AHCJ)
Paul Irving's keynote at AHCJ's conference, hosted by the USC Davis School of Gerontology on October 16 and 17, challenged journalists to increase their coverage on the demographic shift, social determinants and disparities, intergenerational interventions, and the impacts of ageism. Nora Super will present a webinar to AHCJ journalists on the new dementia report on December 18.
 

On the Horizon
Middle East and Africa Summit 
The Milken Institute's Middle East and Africa Summit will be held in Abu Dhabi on February 11-12, 2020. Nora Super will moderate sessions on healthy longevity and the science of aging. While in the Middle East, Nora will also participate in a Longevity Forum in Oman on February 10 to discuss Age-Forward Cities for 2030. For more information, contact Cara Levy at clevy@milkeninstitute.org.
Long-Term Care Landscape Analysis 
Americans reaching age 65 today can expect to live, on average, until age 85—and about one-quarter will live past 90. While some will have decades of active, purposeful living, more than half will need a high degree of assistance with eating, bathing, or other routine daily activities. The aging of the baby boomers will double the number of Americans needing long-term care (LTC) to 27 million by 2050.  
To address this challenge, CFA has partnered with the Milken Institute's Financial Innovations Lab to undertake a research project exploring new avenues for funding long-term care and improved care delivery models. With support from the Transamerica Institute, we have conducted more than 50 interviews of experts from government, the private sector, and the academic community, to identify potential opportunities to address market failures that have consistently plagued the LTC insurance market. This landscape analysis will lead to a Financial Innovation Lab and a series of reports and convenings. For more information, contact Arielle Burstein at aburstein@milkeninstitute.org.
Global Conferencce
Milken Institute's 23rd annual Global Conference is fast approaching! Global Conference is our flagship event, known for its power to convene the world's leading minds in business, government, philanthropy, technology, entertainment, academia, and media. CFA will host sessions about the generational divide, social isolation, long-term care, lifelong learning and the changing workplace, and more. Mark your calendars for May 2-6, 2020, in Los Angeles. Check the Global Conference 2020 website page for updates about this event.
 

From Our Board

Freddy Abnousi, head of Healthcare-Research at Facebook, is working with US health organizations to offer a new Preventive Health tool. In the US, people can search for Preventive Health in the Facebook mobile app and find places to receive care, set reminders to schedule preventive tests, and more.

Arthur Bilger, chairman of the Bilger Foundation, founder and CEO of WorkingNation, has a new podcast on his website about the future of work. The podcast, Work in Progress, had its first episode on October 14th with Paul Irving as a guest. Listen to it wherever you get your podcasts.

Pinchas Cohen, dean of the USC Leonard Davis School of Gerontology, was recognized by the American Federation for Aging Research for his contributions to the field of aging research.

Catherine Collinson, CEO and president of nonprofit Transamerica Institute and Transamerica Center for Retirement Studies, has launched a new project: Colorado's Above-Fifty Employment Strategies (CAFES) to better understand hiring and retention of older workers. CAFES is a collaboration between the University of Iowa's School of Public Health and the nonprofit Transamerica Institute. They are surveying Colorado-based employers about business practices that focus on employees 50+. 

Catherine Collinson and Joseph Coughlin, founder and director of the MIT AgeLab, teamed up to host a symposium on caregiving. 

Kevin Crain, head of Workplace Financial Solutions, and Surya Kolluri, managing director of Bank of America, led the release of a new report looking at "Longevity Fitness" in conjunction with the Gerontological Society of America. The report looks at the ability to thrive throughout an individual's lifespan and incorporates research into the discussion with employers, policymakers, and individuals to support these three key areas.

Ric Edelman, founder and chairman, Financial Education and Client Experience at Edelman Financial Engines, hosted the Smart Money Retirement Expo on November 23 in Virginia, featuring 26 panels for thousands of attendees. With the goal of helping nearly and recently retired individuals financially prepare for the coming decades, the event will begin touring nationally to highlight important steps in retirement preparedness.

Jo Ann Jenkins, CEO of AARP, has been traveling the world with AARP, the World Economic Forum, and the Organization for Economic Cooperation and Development (OECD), to hold workshops on shaping the workforce of the future for AARP's Living, Learning and Earning Longer initiative. AARP also released the 2019 Purpose Prize winners, highlighting individuals age 50 and older who are making a difference in their community.

Bob Kramer's organization, the National Investment Center for Seniors Housing & Care (NIC), where he is the founder and strategic advisor, hosted its annual fall conference "Investing in Seniors Housing & Care Properties" with over 3,300 leaders from across the seniors housing and care industry. 

Jim Mellon, chairman of Juvenescence, Ltd. and Andrew Scott, professor of economics and former deputy dean at the London Business School, hosted their second annual Longevity Forum, featuring members of our Business Council and Advisory Board, including Linda Fried, Joseph Coughlin, and Yvonne Sonsino of Mercer, among many other impactful speakers.

Pat Milligan and her team at Mercer released a key report on the aging workforce. Paul Irving wrote the report's introduction. 

In preparation for its 20th anniversary, the Alzheimer's Drug Discovery Foundation (ADDF) and its CEO Mark Roithmayr released a new video, "Building Towards Breakthroughs," describing the history of ADDF's work, and its goals going forward.

To learn more about our work and to keep up to date on the daily happenings at the Center for the Future of Aging, follow our Twitter, LinkedIn, and Facebook.
 
Published December 16, 2020