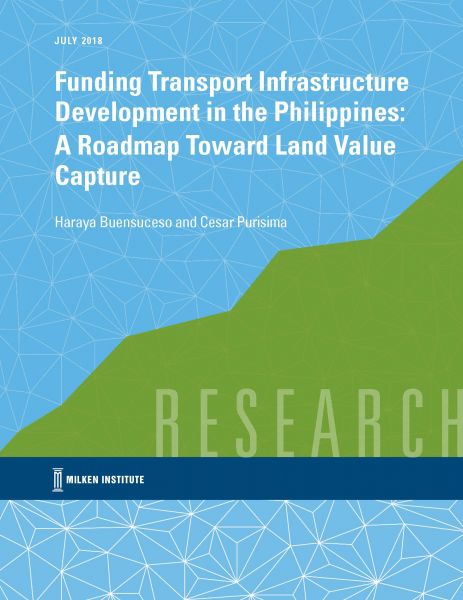 Prevailing discussions surrounding funding transport infrastructure in the Philippines tend to focus on the boons and banes of different financing models. Yet, the sustainability of a transport service ultimately hinges on the ability to pay for it. Whether publicly or privately financed, adequate and reliable funding underlies every project's long-term success.
This report examines a class of funding tools that has been underutilized, but which the Philippine government may consider using as it plans for an era of "Build, Build, Build." Land value capture (LVC) takes a "beneficiary-pays" approach to infrastructure and encompasses a plethora of strategies that leverage the benefits of higher land values typically found around transport infrastructure such as urban transit stations, corridors, integration hubs, and roads. 
To facilitate the successful implementation of LVC, the Philippines can aim to address key challenges surrounding the issues of land valuation and taxation, infrastructure and land-use planning, governance, land ownership, and land settlement. In particular, it may explore the following policy solutions:
The establishment of a single, market-based schedule of land values
The adoption of a long-term national transport infrastructure plan
The enforcement of updated local land-use plans
The appointment of a permanent body to coordinate LVC efforts
The report concludes that there are sources beyond fare revenues and public subsidies for funding transport that the current administration can tap as it ramps up the infrastructure pipeline. From special assessments, to joint ventures - LVC in particular offers a wide array of funding possibilities for the transportation sector. Meanwhile, the authors also stress the importance of transparency and accountability in every step of the implementation process. Transparency is critical for gaining public support, which, in turn, will determine the success of any LVC initiative.