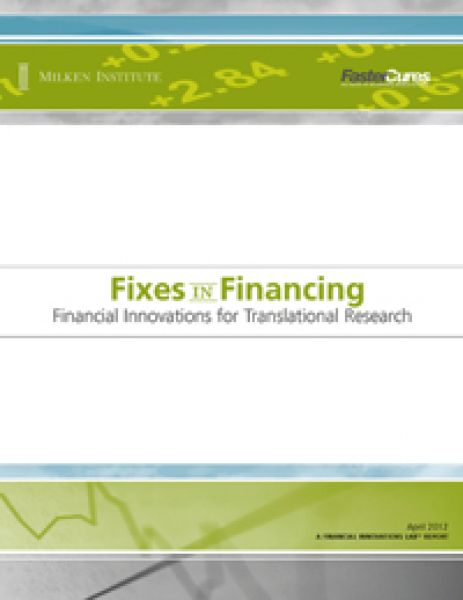 In 2011, the financing gap for translational research was widening with traditional medium- and small- cap biopharmaceutical corporations as well as VC investors becoming increasingly risk averse.  To bridge the gap in this so-called "Valley of Death," in which many underfunded early-stage ventures meet their demise, the industry needed novel approaches to both early-stage drug development and financing.  
To this end, the Milken Institute and FasterCures hosted a Financial Innovations Lab in New York City in July 2011. Dozens of investors and innovators gathered to explore the approaches being used to advance early stage high risk initiatives in medicine and other industries and determine whether these financial and managerial tools could be applied to translational medical research.
Key themes discussed included better managing risk, lowering the cost of capital, improving research effectiveness, creating diverse portfolios, leveraging risk-tolerant capital, and accessing new capital sources. Specific recommendations were new operating models to improve research effectiveness and value creation, integrating philanthropic and government funding to provide leverage to capital, developing new investor tax incentives, and creating innovative financial structures such as securitized research-based obligations that allow for both scale and diversification of the development pipeline.
Lab
July 2011
New York, N.Y.