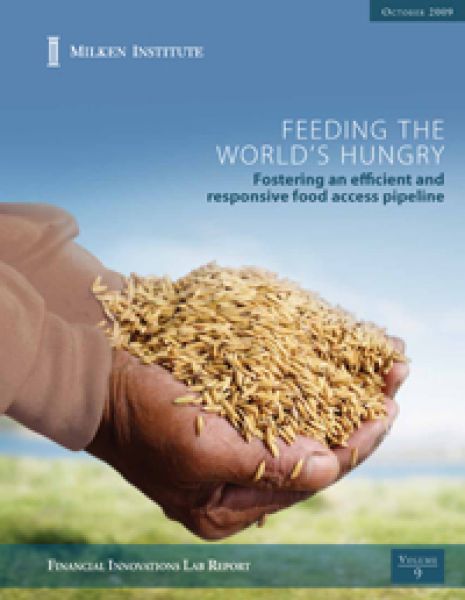 The 2008 global financial crisis left people with less money to feed their families and institutions with fewer resources to help.  At the time of the lab, hunger impacted 1B people, 65% of whom were concentrated in seven countries.  Despite this concentration, delivering food supplies to the greatest number of people in need was a constant challenge for food-assistance agencies. 
To explore how financial tools could help address this challenge, the Milken Institute, with support from the Bill & Melinda Gates Foundation, hosted a Financial Innovations Lab in Washington, D.C. in July 2009. Lab participants included representatives from foundations, research organizations, humanitarian and government agencies, international development finance institutions, commodity exchanges, and banks. Participants discussed financial tools that have been used effectively in other sectors, and noted that the main challenges facing global food assistance organizations fall into three categories: funding, price and supply. 
The group recommended using instruments such as forward purchases, call option contracts for contingencies, guaranteed food assistance bonds, physical grain reserves held by the public sector, and tax credits for private companies willing to sell their food stocks to help improve assistance groups' ability to deliver desperately needed food on time and at lower cost.
The lab helped confirm the potential positive impact of a new pilot program being started by the World Food Program called the Purchase for Progress (P4P) program. This new program was partially backed by the Gates Foundation to explore new ways to use World Food Program purchasing activities to enhance smallholder farming practices globally. This program is currently available in over 35 countries and is being further mainstreamed.
Lab
July 2009
Washington, D.C.