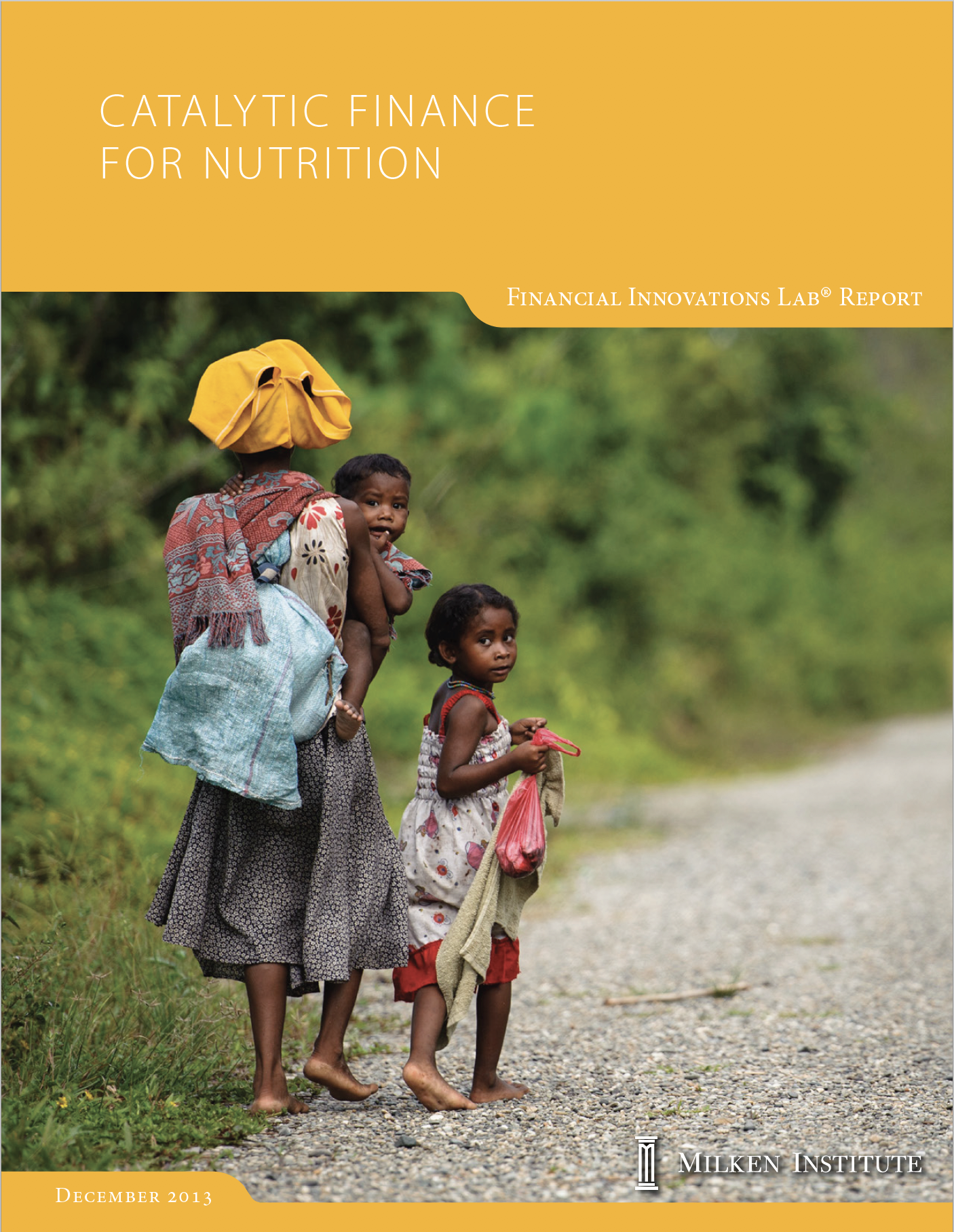 This report presents conclusions from a two-day Financial Innovations Lab® on catalytic financing for nutrition facilitated by the Milken Institute in May 2013. Participants included a broad mix of government representatives from countries that have been affected by undernutrition, as well as bilateral and multilateral donors, foundations, representatives of private businesses, and finance and nutrition experts. The Lab reviewed proposals emerging from the Steering Committee on Catalytic Finance established under the auspices of the Scaling Up Nutrition (SUN) Donor Network, an informal group of existing donors in nutrition.
In June 2013, the pre-G8 Nutrition for Growth summit saw leaders from high-burden, emerging, and industrialized countries' governments, international organizations, industry, and civil society come together in London to place nutrition at the center of the development agenda. At this meeting, 94 stakeholders signed the Global Nutrition for Growth Compact, including 26 governments engaged in addressing undernutrition. Fifteen of these governments have made significant commitments to increase domestic resources for nutrition.
Building on the momentum created by the work of the Steering Committee and the ideas discussed at the Financial Innovations Lab, the Children's Investment Fund Foundation, the UBS Optimus Foundation, and the U.K.'s Department for International Development announced at the Nutrition for Growth summit their intention to join together as partners in developing a new catalytic financing facility for nutrition. By pooling funds with other donors, the new vehicle will partner with countries to accelerate measurable improvements in childhood nutrition.